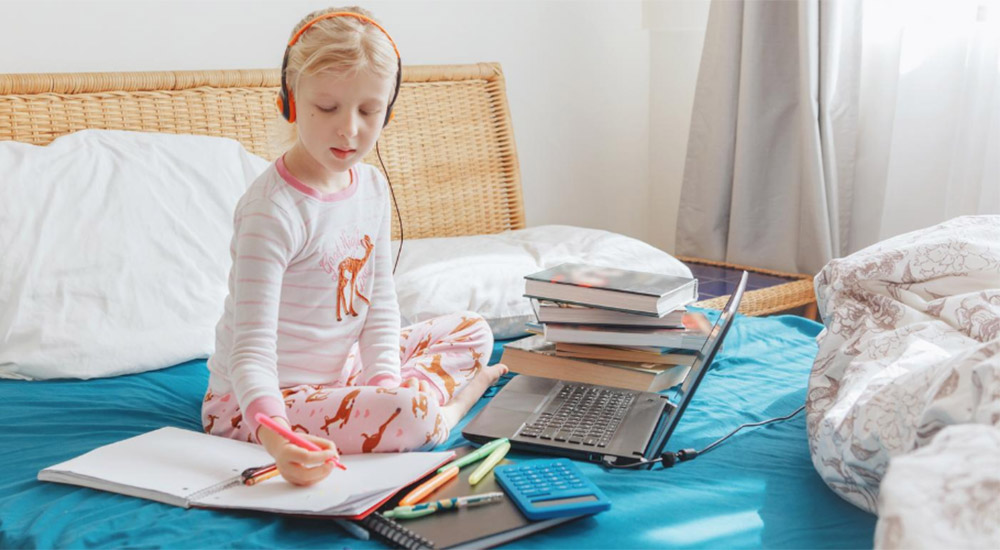 The back-to-school season looks a little different these days! With several schools now offering virtual learning programs, parents might be investing in desks, laptops, and other supplies along with the usual notebooks and lunch boxes. The good news is you get to save some money on backpacks and school clothes!
Here are just a few things to consider when getting ready for the new school year:
Tighten Up Your Home Network
Between online school and telework, there's no doubt your network will be tested. It's your most important asset to a successful work or school routine, and it should be reliable, secure, and strong. With help from Livewire, we'll keep you connected so that you and your kids can stay productive while learning and working remotely. 
We offer services like free internet speed checks, wifi dead spot analysis, wifi security analysis, and more, and we can do all of this remotely! Our team is able to log onto your system during your consultation and cover these important aspects. You can learn more about these options here. 
Upgrade Your Sound
For many, the soft lull of white noise or low-fi beats can be really helpful in increasing productivity. By implementing products, like a Sonos speaker, to every room in your home, everyone is able to listen to the music that helps them work best. 
Bring in Quality Lighting
Since we're all spending so much time inside, it's important that our homes emulate lighting that follows our circadian rhythm. The circadian rhythm is our natural, internal process for regulating the sleep-wake cycle. With an automated lighting system, your body is able to stay on track and stay well regulated. 
Getting a proper amount of sleep not only encourages a healthy immune system, but also promotes productivity and our ability to focus. 
Create Designated Space for Learning
Although doing homework from bed is tempting, it's essential that students have a designated area that separates work and play. Creating a space that is ideal for virtual students includes quality products like a crystal-clear external camera, headphones, and perhaps even external speakers. Investing in items like a new desk and comfortable seating will also make the new, virtual school year much more enjoyable for both of you. 
Giving your kids a break from this area can also help them be successful this school year. Stepping away from the screens during lunch, snack, or playtime can help them relieve stress and recharge for their future sessions. Printing out assignments rather than working with them online can also serve as an option for limiting screen time. 
For parents and kids across Virginia, schooling this year is going to feel and look very different. It's an adjustment that we're all dealing with, and Livewire is here to help you wherever we can.
What Are You Waiting For?
Some of the areas we serve include:
| | | | | |
| --- | --- | --- | --- | --- |
| Richmond | Henrico | Short Pump | New Kent | Spotsylvania |
| Chesterfield | Ashland | Tuckahoe | Williamsburg | Thornburg |
| Midlothian | Glen Allen | Petersburg | Hopewell | Caroline |
| Powhatan | Atlee | Colonial Heights | Goochland | Fredericksburg |
| Mechanicsville | Hanover | Charles City | Charlottesville | Cumberland |
Livewire serves customers all throughout Central Virginia. If you don't see your city or town listed here, please contact us to find out if we can accommodate your needs.