Nothing beats the benefits provided by a home theater. With affordable technology and creative designs, it's easier than ever to build a custom viewing experience inside your home. But this begs the question: how much should my home theater cost? In this article, we'll take a look at some of the cost considerations that will inform what kind of budget you'll need for the home theater of your dreams.
Let's pass the popcorn!
All About the Location
Where you install your home theater is the biggest X factor in setting a budget. It's the first step in the process, but also the most important! Do you already have a media room that's easy to convert? Are you going to need to build a new addition for your home theater? Maybe you have the space, but it needs a bit of renovation? We've worked with homeowners to close in a second-story loft or convert a spare bedroom into the home theater of their dreams.
Any kind of new construction or significant renovation will have high costs associated with them. That being said, it is vital that you have a proper space for your theater to go. You can invest in a top-of-the-line projector and sound system, but they'll be wasted if the environment isn't right. Every home is different – but here are a few general rules to consider:
– The ideal space should be relatively isolated from the rest of the home to avoid disturbing central areas.
– Preferred measurements are roughly 20 feet long by 13 feet wide with high ceilings. But most spaces are adaptable given the right dimensions and location.
Cost Considerations
Now comes the fun part! Once you have the space picked out and ready to go, it's time to start building your system. While home theaters come in all shapes and sizes, there are several pieces of equipment you can expect to invest in.
Televisions
Creating the ultimate home theater goes beyond what you enjoy the entertainment on, but it's a good place to start. Picture quality has evolved by leaps and bounds over the last decade, to where 4K UHD has become standard even for most broadcasts. Take advantage of this crystal-clear video resolution with the immersive viewing provided by premium LED and OLED products.
We're past the days of having to empty our savings to put in a 65-inch TV. Large models are more affordable than ever, and innovative new features are introduced to bring on-screen picture quality ever closer to reality. Sony's new cognitive processing technology is literally training our televisions to interpret visuals the same way our brains do.
We've also seen 8K-capable displays emerging at the higher end of the market. and that's incredibly exciting! However, very little (and we mean little) content is actually shot using 8K technology, so investing in one may be premature. To even notice the benefits, you would either need a massive display or enjoy sitting right in front of your television. Unless you have a need to feature the bleeding edge of technology or plan on using your home theater primarily for gaming, there's no reason to dive into that technology just yet.
Every space is different, but for your space to really feel like a home theater we recommend looking at models 65 inches and larger. Budget options typically start at around $650-700 while premium products can cost up to the $9,000 range. Ultimately, televisions are a great solution for homeowners with budget or size restraints. If you really want to mimic the movie-going experience at home, we recommend a projector-screen setup. This brings us to…
Projectors
Projector technology has evolved leaps and bounds over the past several years. Once considered a cheap alternative to big-screen TVs, Sony now has an impressive lineup of 4K projectors with key dynamic HDR Enhancer technology. These are made with components that increase the brightness of the lightest part of HDR pictures without compromising any of the darker parts. The resulting contrast range gives you near-perfect blacks and crisp color detail.
It has been really fun to see how front projection technology has improved so dramatically. Each year brings a slate of new models offering better performance than their predecessors. In fact, the $1,500 front projectors available now surpass specs included the $20,000 models of just 15 years ago! While there are cheaper options available, we wouldn't recommend going any lower than this range.  Less-expensive models are typically more for business applications and do not offer the same features as front projectors designed for home theaters.
If your budget allows for the latest and greatest in home theater technology, expect to pay anywhere from $10,000 to $60,000 or more on a quality projector. These models include features like widescreen or 2:35 aspect ratio, 4K, and great video processing. One more thing to consider when it comes to projectors is the cost of the lamp.  A typical projector today has an average life expectancy of around 6,000 hours before it will need to be replaced. Make sure you weigh the cost of a replacement lamp for your particular model when considering your purchase!
Screen
We can't stress enough how important the screen is for your projector setup. Often treated as an afterthought, they're crucial for getting the highest performance out of your projector. Expect a decent 120" 16:9 screen start around $1,800. The really good ones of the same size will be a little above $3,000 – and worth every penny. Typically, anything less and you are not going to get all of the performance your projector is capable of.
[mkb-tip]Livewire Tip: We highly recommend the screen solutions from Dragonfly for entry to mid-level home theaters and Screen Innovations as a premium option.[/mkb-tip]
Sound System
Build it right, and a quality sound system can last a long, long time. Most times you can continue to build by adding more speakers and components to achieve the latest surround sound effects. Money spent here is well worth it; no one has ever told us they spent too much on speakers!
They come in a variety of setups, you may have anywhere from five speakers and a sub in a traditional 5.1 surround sound system all the way up to nine speakers and two subs for the newest object-based surround sound systems like Dolby Atmos or DTS-X. Most sound systems include a combination of:
☐ Front and Center Channel Speakers – More important than your surround speakers, the center channel is where 80% of the dialogue comes from in movies and TV shows.
☐ Subwoofers – If you are a big action movie buff, the sub is not the place to pinch your pennies. Two is also always better than one for the most even bass around your room.
☐ Effects Channels (Side and Surround speakers) – Installed in your ceilings, at your sides, and in the back. They help provide a truly immersive experience but aren't necessarily as vital as the front three.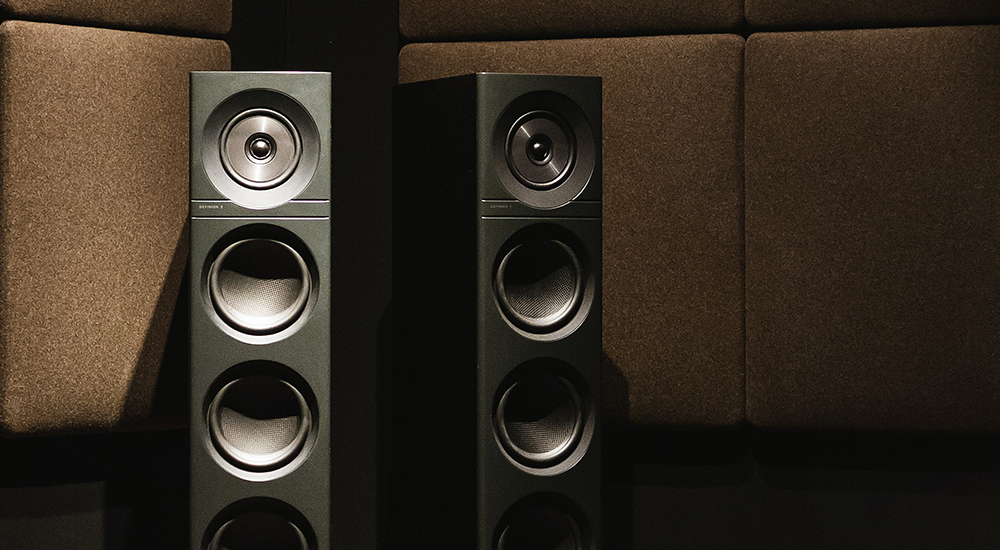 Receivers
The home theater receiver is the brain of your system. All of the surround sound processing, video switching, and amplification for your speakers happens inside your home theater receiver. The quality of your receiver should scale with how much you invest in the other components of your home theater. Sure you can buy an all-in-one unit for as low as $149, but it won't do justice to the dynamic surround sound system you invested in. It'd be like buying a Ferrari and only using it for trips to the grocery store!
To get something that works smoothly and sounds great, you should expect to pay around $800 and up. If really want to go all out, consider a separate home theater processor and multi-channel amplifier. This will not only give you better sound but is also scalable. You can probably keep the amps for 20+ years and only switch out your processor every 5-10 years as technology improves. These components will typically start out in the $3,000 range and go up depending on how many channels of amplification you get and the power levels.
Lighting
We all know the feeling:  you're sitting in a theater, chatting away with friends and family waiting for the movie to start, maybe you've already eaten more popcorn than you wanted to. Suddenly, the lights start to dim, a hush ripples through the audience, and the screen glows to life as the theater goes dark.
Lighting is integral to the movie-going experience. When you add lighting control to your home theater setup, it can enhance the entire space. Homeowners can pre-program lighting scenes for before, during, and post-viewing.
Furniture
We've seen all kinds of furniture in the home theaters we've designed, from typical home theater chairs, to large comfy couches, to completely custom furnishings. A home theater installation professional can help guide your decisions on where to install your seating. They will have a lot of insights to offer in terms of sightlines and distance from the screen, especially if you want to build a theater with multiple rows of seating.
We highly recommend you consider getting decent quality seating. Some of the inexpensive types may seem like a great deal at first but not so much after a couple of years when the padding starts to give out. Generally, you should expect $800 to $2,000 per seat for decent quality. Brands like Salamander, CinemaTech, and United Leather provide tons of options and customizations from materials and colors to endless configurations.
A Few Examples
If it hasn't been made obvious by now – the answer to how much much should my home theater cost is vague. It depends! To give the process some context let's take a look at a few examples of different home theater setups*.
*Note: Costs given are for materials and service, they do not include the costs of any construction, renovation, or furnishings. 
1. Balling On A Budget – $2,100
For this simple home theater system setup, the client had a space installation-ready and didn't need any furniture. They purchased the components below and hired a company to set up the system, complete wiring, and mount the TV.
– 60″ Television and Wall Mount
– Five (5) Box Speakers and Subwoofer
– Surround Amp
– Three HDMI Cables
2. A Step Up – $6,500
A more traditional home theater design that still relies on a television setup. The cost covered system design, installation, programming, and customer education on how to use and troubleshoot their new theater.
– 80-inch UHDTV
– Dolby 7.1 Surround Speaker System
– One Subwoofer
– An Easy-to-Use Universal Remote
3. Mid-Range Option – $10,000
Working our way into the projector and screen systems, this setup includes a comprehensive surround sound system, labor for installation and concealing of all equipment, and system configuration for your smart phone.
– Projector and Mounting Bracket
– 110″ Screen
– Five (5) Box Speakers and Subwoofer
– Surround Amp
– Remote Control System
4. High-End System – $30,000
Featuring the best of the best! The Black Diamond screen is actually black as opposed to the traditional white. When paired with a high-performance projector, the black levels rival that of the best UHDTVs and the white levels are equally impressive. Also included are costs for home theater system design, installation, programming, and customer education.
– 2.40:1 Projector
– Motorized Anamorphic Len Kit
– 130″ Black Diamond Screen
– Dolby Atmos Surround Sound
– Remote Control System
An Experience Above
Whether you're a social butterfly or an introvert looking for a getaway, a home theater can deliver. Your place will be the go-to for friends and family to spend game days and movie nights. We haven't managed to replicate movie theater popcorn yet, but you can find larger-than-life visuals, crisp sound, and plush seating without the price of admission!
 Let Livewire take care of everything from the initial design to the final installation. Our team of expert home automation specialists will cover all the bases like equipment and tools training, as well as be there when you need us for technical updates and equipment upgrades.
Contact Livewire today at (804) 441-7627 for a free consultation and start envisioning a true theater experience in your home!