In the world of commercial technology, a fast, reliable network is integral to any successful business. Problems with outdated cables, excessive downtimes, and slow connections cost companies millions of dollars annually. It's so important to have an office network that's fast, secure, and reliable. But that begs another question: how much should it cost? The answer might be a bit complicated, but let's give it a go!
Choose Your Weapon: Ethernet vs Wi-Fi
We love wireless technology. It's clean, convenient, accessible, and connection speeds have increased dramatically in recent years. However, there's a lot to be said for the security and dependability of a premium hardwired network.
Hardwired networks are faster, more reliable, and have lower latency. They're easier to secure, and if you own your office space it also improves the property value. Yes, Wi-Fi devices have come a long way, but they simply can't keep up with the performance of premium Ethernet cabling. Plus, an Ethernet network can always be turned into a Wi-Fi network (while the reverse is not true).
So why is this even a question? The biggest factor comes down to why we're here: cost. The upfront costs of installing a hardwired network can be prohibitive for some. Connect with a technology professional to identify your office network needs. They can help identify a plan that works with your budget.
New Construction or Existing Building?
There are two different scenarios for office network installation: into an existing building or during construction. Installation in a building under construction is typically much simpler than an existing building, and the difficulty of running cables plays a significant role in the project cost. The process is a lot easier in new construction because cabling is installed before the drywall sheets are erected.
That's not the case for existing buildings. Installation requires opening up walls, patching them, and pulling cables through blind areas. If it's an older or historic building, this could also require circumventing certain areas to avoid disrupting the appearance of the building. Occasionally, installation may require holes bored in non-structural framing. Due to the increase in labor, installing an office network in an existing building costs more.
Parts, Parts, and More Parts
Every space is unique, and different installations require different parts. A technology professional can provide the exact parts and hardware necessary for your building. However, here's a list of components that are needed for almost any office network:
Plates, Plugs, and Jacks
Networks cannot thrive without the appropriate power and connections. You may need to install additional wall plates, electrical outlets, and other connections to help the network run properly. RJ45 Jacks are connectors required to access a local Ethernet network, so one is needed wherever you want internal networking available. Map out your network in advance so you know where you'll need a connection.
Average Cost: $10 – $25 each
Network Switches & Hubs
Some routers have only one LAN or WAN port, which isn't practical on an office network. A network hub or Ethernet switch allows you to access multiple network devices. However, the cost will vary significantly depending on the size of your network.
Average Cost: Depends on network size

Modems & Routers
Can't run a network without an Internet connection! Your modem is the gateway for the network to connect to the Internet. It controls data speeds, bandwidth, and the reliability of the entire network. The router is responsible for routing Internet access to various network devices. and typically has an option for wireless access. Discuss your business needs with a technology professional for the best recommendation on which products to consider.
Average Cost: $200 – $500 per unit, high-end models can run $1,500+
Wi-Fi Extenders
Not required (but certainly helpful) a Wi-Fi extender will repeat the Internet signal throughout the office. Even hardwired networks have Wi-Fi capabilities for mobile devices like smartphones and tablets. The larger the size of your office, the more likely you'll need an extender to access your office network from anywhere in the building.
Average Cost: $30 – $100 each
[mkb-tip]Livewire Tip: If you're limited to a wireless system but want something a little extra, consider a mesh network. These systems rely on a series of access points placed strategically around your building. Think of it as a series of supercharged extenders![/mkb-tip]
Cable Management
Sure, you can buy a bag of velcro strips for $20 and DIY a "cable management system." It won't look pretty, but it may do the job for a small network. Generally, office networks systems with more cables or extended lengths cost more to organize. Metal management strips and rubber cable runners are must-haves for most commercial systems. management strips range from $25 to $85, and rubber cable runners average $10 to $18.
Average Cost: $35 – $95 for each strip, $20 – $30 per cable runner
It's Cable Time
Different types of cables have different capabilities, which means different costs. Cable selection is something you will want to discuss with your installation tech to ensure that you choose the best Ethernet cable for the job.
Coaxial Cables
Coaxial cable is probably the most common type of cable. This standard black cable (or sometimes white or gray) includes the pin-style plug and connects to a cable jack in the wall. It is the most affordable solution for those who want a hardwired network but may not have the budget for fiber optics or CAT cables.
Average Cost: $0.20 – $0.50 per foot
Twisted-Pair Cables
Twisted pair cabling (more commonly known as CAT cabling) has many different classes, but the three most popular are CAT-5, CAT-6, and CAT-7. CAT-5 is made of twisted copper cables, while CAT-6 is constructed of standardized cable that offers higher speeds. CAT-7 is the newest, offering a shielded cable that reduces network interference and crosstalk.
Average Cost: $0.25 – $0.75 per foot
Fiber Optic Cables
Fiber optic cable is a newer option that offers better technology for long-distance communication. These cables include thin strands rather than copper wire and can travel further distances. It can cost up to five times more than the other options but is invaluable in many applications.
Average Cost: $1 – $6 per foot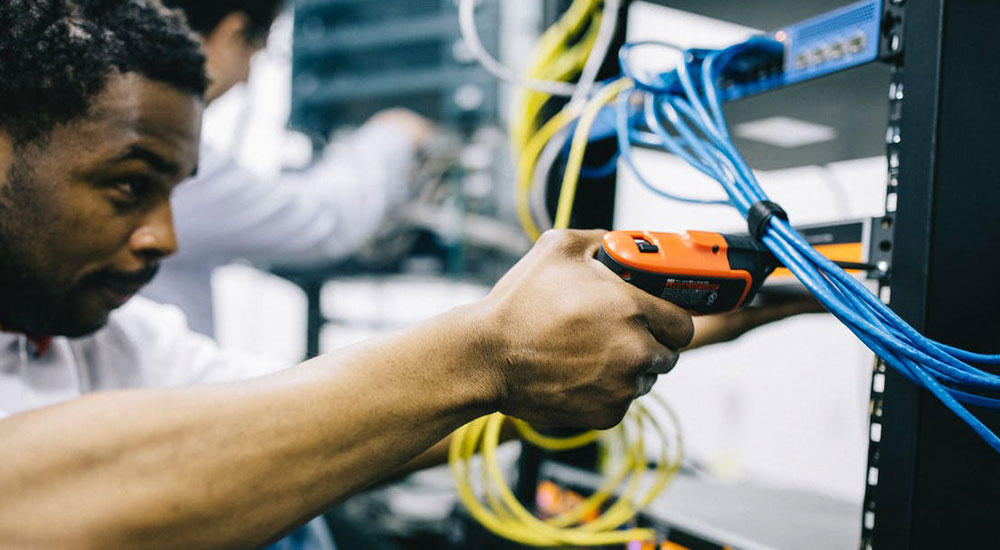 Office Network Labor Costs
Most office network installations take multiple days of work, so labor costs are a big factor in terms of the total price. They can fluctuate anywhere from $50 – $250 per hour, and rarely will there be a flat rate. On average, contracts estimate it takes 30 to 40 hours per 2,000 feet of cabling for a network. However, this too can vary based on the complexity of the installation. Some other elements that factor into labor costs include:
Number of Rooms – The more rooms that require network access, the more complex the project. Installing three access points in one room is much easier than installing three access points in three separate rooms.
Cable Removal – If you are replacing a network or installing a new cable in a building with existing cabling, the old ones gotta go. Many fire codes demand that old cables are removed, which takes time.
Cable Drops – A "drop" is a run of cable that originates in a wiring closet or server room and ends in an office, cubicle, or workstation. You might want to run spare cables to accommodate future capacity. It's cheaper to add extra network cables during a current wiring project than it is to install them later.
Electician Support – Sometimes an electrician is needed to add outlets, relocate wiring, repair wiring, and resolve electrical issues to ensure the network operates properly.
Internet Cost & Network Security
Monthly Internet costs also play a role in the cost of your network, and its another area with a wide degree of variance. Different packages have different limitations on speed, bandwidth, and data usage, and location plays a factor as well! It's best to know what plan and provider you're going with before you even begin the planning process.
Let's hit it home with an example. Say you want to install a hardwired network with CAT-6 cabling. Considering the recommended speeds needed for that installation, you might need to upgrade you package to one with faster Internet speeds. Faster speeds = higher bill. Otherwise, it's like buying a Ferrari but only driving it to the grocery store down the block!
The type of security that you choose may incur additional costs on your project. Some free services will do some basic monitoring of your network, while others offer more comprehensive monitoring and service.  You should also keep an internal firewall turned on at all times to prevent employees from accidentaly putting your network at risk. Outbound firewalls are another tool which help keep information secure and external forces out of your network.
Next Steps
It's important to consider these types of factors in the planning stage of your project, and an technology professional can give you the guidance needed to make the right decisions. With over 20 years of experience, Livewire has the expertise to bring your office network dreams to life.