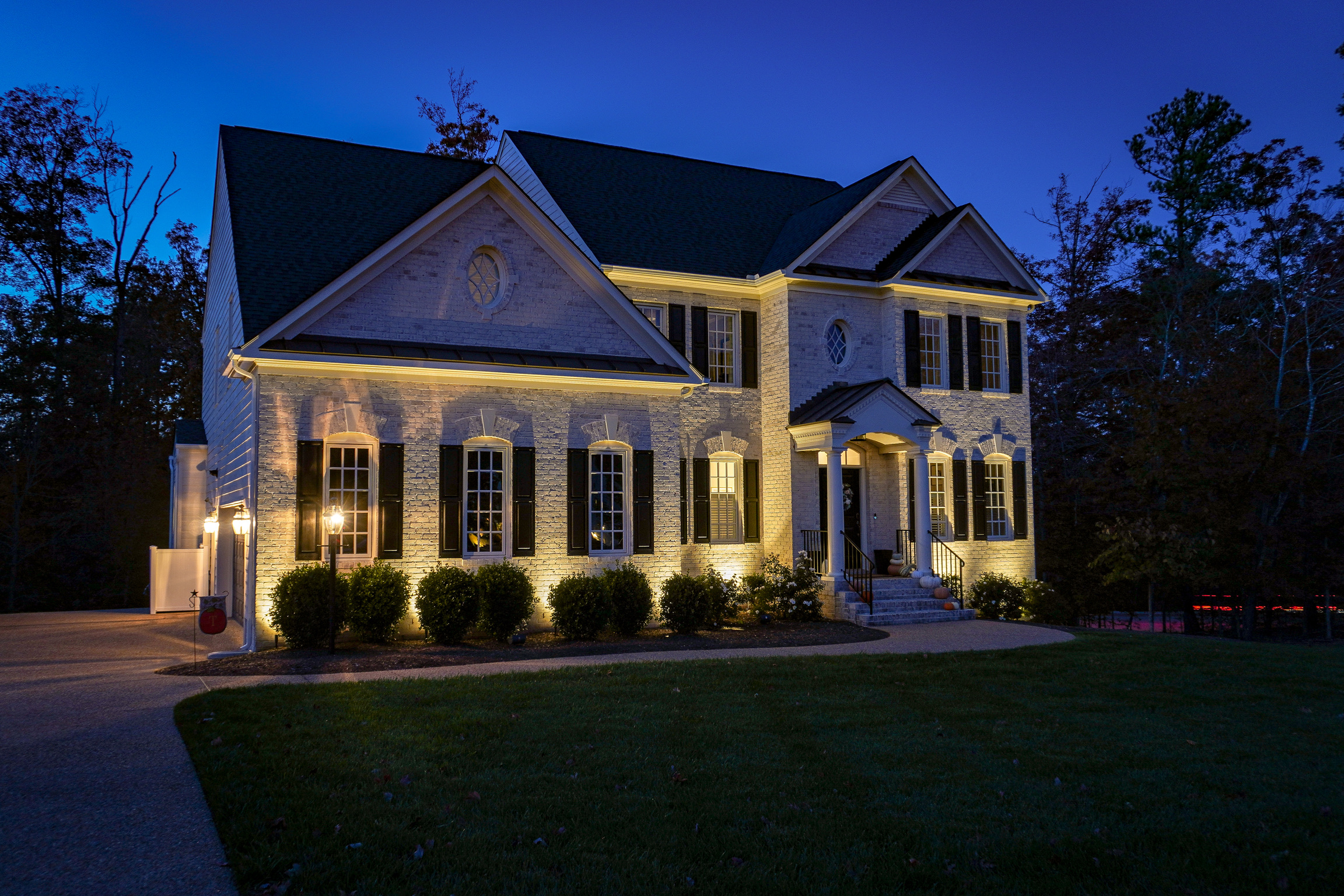 Smart lights have drastically changed the way people light up their homes. While the most common solutions are still switches, bulbs, and fixtures inside your house; smart outdoor lighting has seen a huge boost in recent years. Whether you want to accent certain parts of your property, light up pathways, or add another layer of home security – the sky's the limit for outdoor lighting applications!
What Is Smart Outdoor Lighting?
Smart lights don't require a physical switch to turn on or off; rather, they're controlled remotely using Alexa, Google Assistant, Apple HomeKit, or other voice integration devices. After you install the fixtures, connect them to your home assistant via WiFi and you'll be able to turn them on or change the colors with your smartphone or a simple voice command.
While the features are similar to traditional smart lights you'd find inside the home, it's important you don't just plug in any old smart bulb in your uplighting fixture. Outdoor options are more rugged and specifically designed to withstand weathering and elements like rain or snow. To get the most out of your system, make sure your smart outdoor lights are water-resistant and weatherproof.
[mkb-tip]Livewire Tip: While some fixtures are "plug and plays," certain brands (like Philip Hue or Sylvania) require a control hub to function properly. Make sure to research the fixtures you intend to use, or contact us if you're looking for professional installation![/mkb-tip]
Smart Outdoor Lighting for Security
If safety and security are important for your system, then smart outdoor lighting is the best choice. Most feature light or motion sensors, so they'll turn on automatically when someone approaches your home. Certain brands even offer smart lights that have a security camera for audio and video monitoring. You can even link smart lights to a smart security system, ensuring your home is totally protected.
Another security benefit to smart lights is giving the illusion that someone is always at your home. Because they're controlled remotely, you can turn on your system from any place at any time. You can also set lighting schedules so your house can shine bright even when you're away. After all, over 70% of home burglaries happen while the house is empty.
Other Important Considerations
There are many great smart lighting options on the market, all with different strengths and weaknesses. There's a number of factors to consider to help maximize your investment, so here are a few questions to ask before you take the plunge:
What Kind of Smart Lighting Options Are There?
It's great to have so many smart lighting options available, but make sure you know what they are and what they do before you make a purchase. Some of the more popular routes homeowners take:
– Path Lights – Perfect for illuminating the walkways around your home. Path lights tend to be smaller and most use solar energy, making them a highly efficient option. They're pretty flexible too; different brightness and color options mean you can change ambiance to match your mood.
– Hardscape Lights – Lights that are mounted to any non-living elements in your design. Retaining walls, decks, fences, wooden arbors, and stairs are all examples of hardscapes found on many properties.
– Floodlights – The most powerful type of outdoor light, floodlights can illuminate wide areas from a considerable distance. They're also a great option for those who want outside security without having to use a third party.
– Spotlights – Concentrated lighting that is typically used to draw attention to specific details around your home. Easily adjustable, spotlights are a great way to add elegant uplighting or gentle moonlighting to your property.
[mkb-tip]Livewire Tip: If you already have an outdoor lighting system, you can typically add a smart bulb to your existing fixtures. That way you can hook it up to your home network without having to replace the entire system.[/mkb-tip]
What's The Purpose?
Are you purchasing outdoor lights primarily for aesthetics? Perhaps outdoor entertainment is your biggest priority? Maybe you want it all! Whatever the reason, make sure your system includes a device designed to meet your needs. After all, if security is your biggest focus, prioritizing path lights isn't going to meet your needs.
Are There Weather Concerns?
It may seem obvious, but where you live can have a huge impact on the type of smart lighting fixtures you should invest in. After all, what's great for the brutal Winters of upstate New York might not be the best solution for the humid Summers of central Florida or the blustery Springs in Kansas. If your home is in a climate where rain, snow, wind, or other factors are common, make sure you invest in equipment designed for the job!
What's Your Gameplan?
Before you make a single purchase, have a game plan in mind. There's a big difference between outdoor lighting installation and outdoor lighting design. Outdoor lighting needs to be pre-planned to get the kind of results most homeowners hope for, and we recommend using an outdoor lighting professional to ensure your vision becomes a reality.
Plugs, Bulbs, Kits, & More!
If you're starting from the ground up, several big-box stores offer starter kits and DIY lighting systems. While they're all different, you can expect them to provide some kind of dimmer switch, a few bulbs, and maybe a hub (or bridge) to connect to your other devices.  It's important to note that some outdoor lighting kits require extensive amounts of digging and running wires underground. Therefore, we recommend that they be handled by an outdoor lighting professional to ensure everything is installed properly and safely.
Sometimes you don't need to invest in full light sets or starter kits. This is especially true for folks who already have an outdoor lighting system or are new to the whole smart home automation process. In that case, it might make more sense to test out a few smart bulbs or LED strips first.
If you don't like the idea of investing in individual bulbs, a number of brands carry smart outdoor light switches and plugs. Some are even advanced enough to include three-way switches and dimmers. While they don't offer the same amount of capabilities as a fully automated system or even smart bulbs, they're an economical way to "test the waters" if you already have a system set up.
There are a number of ways to transform an outdoor lighting system into a smart outdoor lighting system. Make sure you take the route that's best for you and your home!
We've Got You Covered
Livewire can help you bring it all together to create the perfect high-end smart outdoor lighting system. We'll be happy to answer all of your questions and talk about how we can make your dream landscape truly shine. Visit our Outdoor Lighting, Smart Home Automation, and Lighting Control pages for further reading.