The Control4 Halo Touch is a time saver and simplifier, so it should be a hit for new systems and upgrades
I've been pining for a decent voice assistant enabled universal remote control for years. Many gallons of digital ink have been spilled beseeching industry manufacturers to catch up with products that Big Cable made table stakes five years ago. Needless to say, I was a little giddy (think Ralphie waiting for his Little Orphan Annie decoder ring in the classic 1980s movie A Christmas Story) when the package containing a shiny new Control4 Halo Touch remote control showed up at our warehouse. I could hardly wait to tear open the box and start putting it through the paces.
Unboxing the Control4 Halo Touch
The Halo Touch is designed for two start-up scenarios: self-installation by a homeowner or professional configuration. The box and packaging strike a nice balance between these two audiences. Plain brown cardboard flips up to reveal the remote nestled in a molded tray with its screen veiled by a thin plastic cling. Lifting the remote up reveals a surprisingly heavy charging base with accompanying USB 3.0 cable and charger underneath.
Installation
I unpacked everything and put the remote on the charger to get juiced up for the coming sea trials. I watched as the Control4/Snap One logo flashed on the screen and the battery indicator showed that we were getting good current flow. So far, so good.
My Halo Touch remote was a pre-release version, so I followed instructions provided to me by Control4's Eric Fritz. The final production version promises a quick QR code driven setup begun from the remote's home screen.
After the remote booted up, I added it to the Wi-Fi network and began a scan for my existing Control4 system. I pointed it to my main controller, and the remote immediately began a firmware update. All of this took less than five minutes.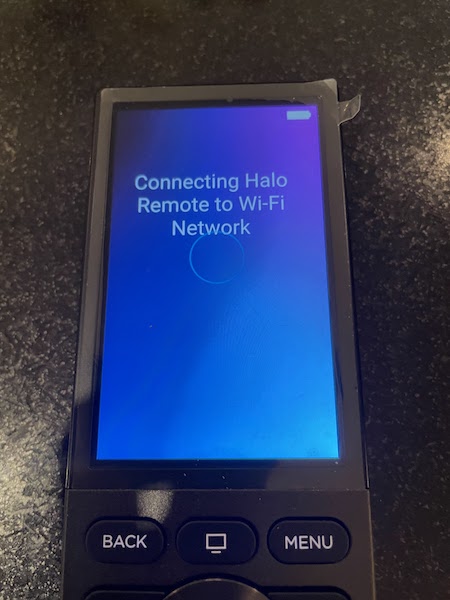 While the remote whizzed and whirred, I opened up Composer Pro, Control4's programming back-end software and added a few drivers needed to make the remote work. These included a new "Halo Remote Hub" agent and replacing the Apple TV driver with the latest IP version. None of this is particularly complex for any certified Control4 dealer, but it will be interesting to see how Control4 handles the promise of self-installation with systems that don't have these components installed beforehand. It's possible to do most of these operations remotely, so it remains to be seen how integrators decide to approach these tasks. Those with long memories of systems that don't always behave as advertised may opt to mandate an on-site service call to babysit the remote as it updates and enrolls.
I did one last firmware update at Fritz's urging, and then set about configuring the voice assistant portion of the remote. This involves enabling Apple's HomeKit, which is required for the voice control to function. Other remotes (Savant) in the custom integration industry also use this HomeKit integration (I think because there isn't much other choice). HomeKit has a tendency to crash periodically with third-party remotes, which Savant remedies through the use of a soft button on its remote to re-establish communication. Control4 appears to intentionally break and reestablish the HomeKit relationship proactively with its driver, thereby delivering the appearance of uninterrupted functionality.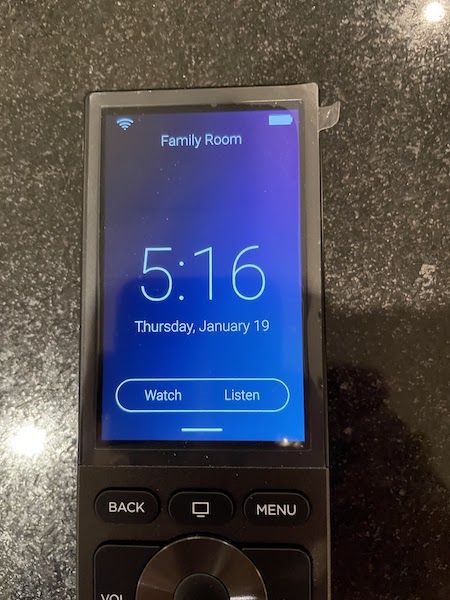 After identifying the remote, updating the firmware, and making sure all the software goodies were enabled in Composer Pro, I was finally ready to test drive the Halo Touch.
I selected my Apple TV from the touchscreen menu and watched as my TV softly clicked on and audio started playing over the speakers. The Apple TV home screen appeared on my OLED, and I started playing around with the directional pad joystick controls in the center of the remote. One of my biggest fears was that this remote wouldn't be snappy. My stress level immediately began to fall as I saw the responsiveness of the remote. All my inputs were instantaneously recognized.
I decided to go big or go home. I raised the remote up as if to rock out a killer karaoke tune and pressed the microphone button. "Movies about dogs," I demanded clearly and concisely. I watched onscreen as the gelatinous Siri icon appeared, undulating and morphing, trying to summon forth a response to my heady request. A few seconds passed and just like magic, a few results appeared including "Snow Dogs," "War Dogs," and "Dog." This may not seem like much, but it's a long overdue Promethean fire moment for our industry.
In a world where vendors have abandoned the universal remote control market, it's great to have the largest industry player launching products that offer up a truly single remote user experience. Gone are the days where we had to tolerate multiple handhelds in the family room due to voice control inaccessibility on our own universal remote controls.
Final Report
The Halo Touch remote retails for $900. Unless your system was engineered with the Halo Touch in mind, chances are you'll need to shell out for some service labor to get the required drivers and agents configured properly. The audience buying Control4 systems tends to skew higher net worth, putting a premium on time above dollars. The Halo Touch is a time saver and simplifier, so it should be a hit on a number of fronts including new systems and upgrading the thousands of old school SR260 remotes already in the field. I can't wait until the Halo Touch begins shipping and we can begin installing them in client homes.
This article was originally published by Henry Clifford on Res Tech Today