With the abundance of security system options available in today's market, choosing between them can be tough! While professionally-installed and monitored systems continue to evolve with streamlined technology and helpful integrations, more and more DIY solutions emerge every day. With so many options to choose from, the question of "which is best?" is asked more than ever.
The quickest comparison is that professional installation is easier while DIY installation is cheaper. Most professionally installed systems require professional monitoring and usually have contracts, whereas it's easier to find a DIY installed system with no contracts and optional self-monitoring. Whether you install a security system yourself or pay a security company to do it for you is ultimately your choice, so it's good to know what you're getting into with each option.
Choose professional installation if you want:
Sensors for every door and window (especially true for large homes).
Both indoor and outdoor security cameras.
A scheduled appointment with an installer to explain your options.
Installation fees but lower up-front equipment costs.
Choose DIY installation if you want:
A simple system with a few window and door sensors.
Maybe one indoor security camera.
Power over your schedule.
No installation fees but higher up-front equipment costs.
Those statements are just the tip of the iceberg, so let's dive into the pros and cons of each:
Professional Security System
The best part of professional installation is putting up your feet and relaxing while someone installs your home security system. While convenience is an important benefit of professional installation, sometimes you just want to feel safe again as soon as possible after a break-in.
[one-half-first]Pros
✓ No toolbelt required
✓ Security assessment included
✓ System tutorial provided
✓ Lower up-front equipment costs[/one-half-first]
[one-half]Cons
⃠ Installation fees
⃠ Time commitment
⃠ May not work for renters
⃠ Usually requires long contracts[/one-half]
In either case, forget your worries about finding the right spot for each device, watching tutorial videos, or reading an installation manual. While you need to be home during the appointment, you can use your downtime to catch up on work emails or get a head start on weekend chores. All while leaving the security system installation to the professionals.
Knowledgeable Technicians
Here are the main perks of having an experienced technician on site:
You can expect a proper security assessment.
They troubleshoot problems and make sure the equipment works correctly.
You'll be walked through the ins and outs of your system and mobile app.
They suggest other ways to secure your home.
A good example of a technician's training is knowing where to place a motion sensor, since installing it too high can reduce effectiveness. You don't want a lack of security expertise to cost you time and effort, or worse, lead to undetected break-ins and false alarms.
As convenient as professional installation is, it's also inconvenient to change up your schedule to align with the installer's availability. If you're already juggling a lot of to-do's, time spent waiting for the installer can be frustrating when you'd rather be elsewhere.
[mkb-tip]Livewire Tip: Professional installation is also perfect for people with limited mobility. This way, you don't have to worry about standing on a wobbly step stool or fiddling with small parts on window sensors.[/mkb-tip]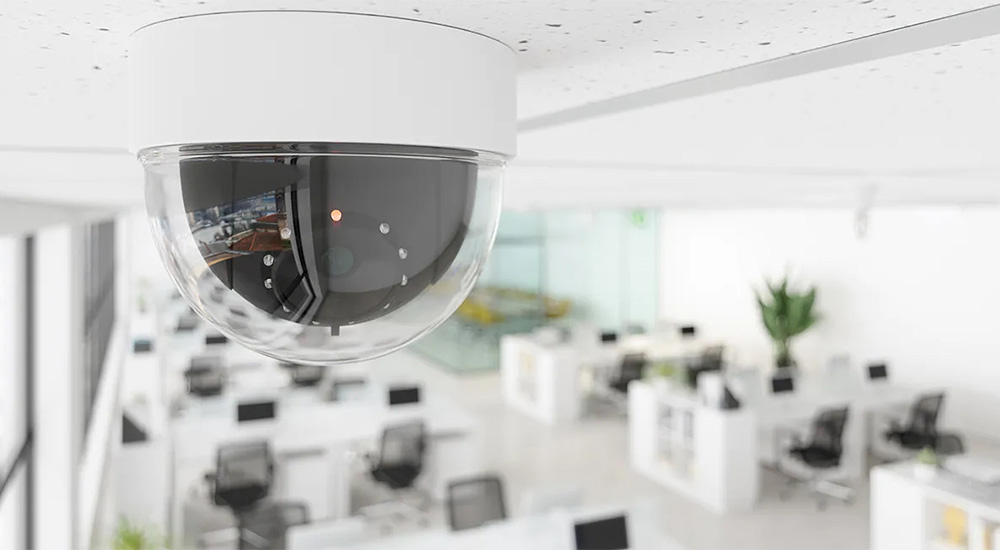 Security System Cameras
While installing indoor security cameras is fairly simple—some just sit on a bookshelf—outdoor cameras are more complex. Sometimes the best view of your property is the worst place for a camera to get power. A professional installer can drill clean holes and run wiring so you get the maximum performance out of your cameras.
You might also want an installer if devices require running power cables or working with electrical circuits. So if you're installing a wired video doorbell or putting up a lot of security cameras, consider leaving it to the pros.
Contracts & Pricing
Professional installation is a pretty sweet deal, but it's not without drawbacks. Sure, a technician may outfit your home with cutting-edge technology with little to no effort on your part, but you should expect hefty installation fees.
Expect to pay between $99 and $199 for professional installation, depending on the security company and the type of equipment you're getting. You pay higher equipment costs with a professional install since these companies usually sell expensive equipment they design in-house.
You're more likely to get roped into a long-term contract with a professional installer than with a DIY system. In exchange for lower up-front equipment costs, the company spreads the costs throughout the course of your contract. Security companies make more money selling a monitoring service than selling equipment.
Look at it this way: it's more profitable to lock you into a contract because every alarm-free month a company monitors your home is money in the bank (though selling mosquito repellent in Antarctica is a good alternative). Contracts can be a bitter pill to swallow if you're just starting out or if you rent your home. So choosing a no-contract DIY system you can take with you is a better investment if you move a lot.
DIY Security System
Whether it's painting a bedroom or installing a security system, doing it yourself is a great way to save money and maybe learn something new about home security. Still, even if you take pride in doing odd jobs around the house, it's helpful to know what you're getting into before you install a security system.
[one-half-first]Pros
✓ No extra fees
✓ No wires (perfect for renters)
✓ No strangers in your home
✓ No contracts…usually[/one-half-first]
[one-half]Cons
⃠ You do the work
⃠ No professional expertise
⃠ Higher up-front equipment costs
⃠ Bigger houses take longer[/one-half]
Wireless Security System Equipment
Without exception, modern security systems (even professional ones) use wireless sensors, so you don't need to tangle yourself in a heap of wiring. If a device needs wires, it's usually nothing more than a power cable you plug into a wall outlet.
The most common DIY devices with power cables are the security camera, control panel, and base station. Thermostats are trickier to install, but DIY security companies don't usually sell these. Unless a company says otherwise, you can expect wireless equipment for the rest of your system.
Simple Installation
Almost every basic component in a burglar alarm is surprisingly simple to install. It's about as easy as changing a lightbulb or hanging a picture frame on the wall. DIY doesn't mean you're alone—if you run into trouble, most companies with DIY installation let you speak over the phone or chat online with a technician.
Most DIY security companies pre-program devices before shipping to save you time and stress. DIY sensors use an adhesive pad to stick to the wall or door. You don't need to drill holes—you simply put your sensors and control panel in place and activate the system. Some devices, like smart locks, require a little more work to install, but you can usually do this with a screwdriver in 15 minutes or less in our experience.
Time Commitment
The real trickiness with DIY security starts when you realize that you're installing more than one device. Essentially, security system installation is more of a time commitment than a complex operation.
Based on our own experiences, it takes about an hour to install a DIY system, unless you live in a particularly large house. Another perk is having full control of your time, rather than scheduling around a technician—and it comes with the bonus of not inviting a stranger into your home or paying an installation fee.
While you sidestep installation fees with DIY security systems, you might pay a small activation fee to get intrusion detection monitoring up and running after setup.
Associated Costs
With most do-it-yourself home security companies, you own your security equipment from the start. This means a bigger up-front expense, but it also means it's easy to take your system with you if you move.
Equipment ownership and wireless design make DIY home security systems the best home security solution for renters. If you don't want to pay for equipment right away, some DIY security companies (like Frontpoint) offer consumer financing plans.
There's usually no contract with DIY install alarm systems, making it an even better deal for renters. You pay for monitoring only when you want it. Depending on the company, you might get monitoring by calling customer support, logging into your account online, or tapping away in the mobile app.
No Experts
Still, DIY installation isn't perfect for every situation. You're probably not a security expert, and that means you may struggle to know if you set up your equipment correctly. And even though you can live-chat or talk to a professional over the phone, they can't see inside your home to make specific recommendations that an in-person installer could.
DIY home security systems come with the risks of improper equipment placement and missing security vulnerabilities a pro would catch. Check out our home safety and security checklist if you want help spotting gaps in your security.
The Final Word
Neither installation type is perfect for everyone, so choose the one that resonates with you. Whether you pass the buck with a professionally installed home security system or roll up your sleeves to install a DIY security system is entirely up to you.
At Livewire, we would love the opportunity to learn more about your needs and work with you to find a solution that will meet and exceed them. Take the next step in setting up your security system.