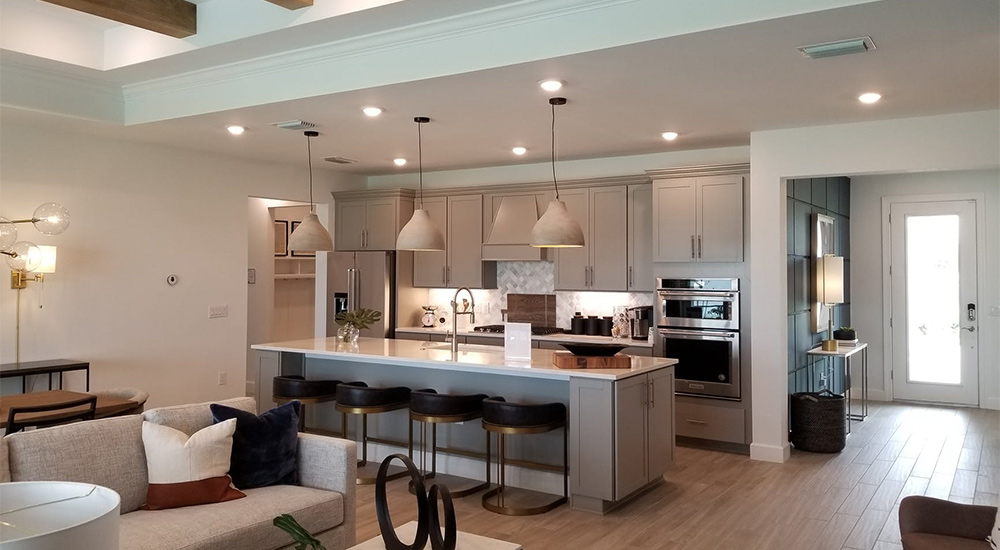 Lighting sets the mood. Whether it's coming home from work or clocking out after a long day in the home office, great lighting makes all the difference. Wouldn't it be great to have a lighting control solution that automatically knew what to do every day without having to touch a light switch?
Imagine this; at 6:00 pm every day your entrance lights turn on automatically while the living room lamps softly come to life. All you have to do is just sit on your couch and turn on the TV from your Hive app with a simple click of a button. Is this a dream? Not anymore. Thanks to Hive technology solutions, it's a reality.
How Much Does A Lighting Control System Cost?
Like so many things, the answer to this one is "it depends," Solutions range from $200-300 per room and go up from there. Budgets cover the cost of the smart switch itself, wiring as needed, installation and programming. There are many different types of smart switches available including the keypad pictured below which enables 'scenes' (controlling a group of lights) and their dimming levels throughout the day. The second image shows a configurable keypad including options such as Relax, Entertainment, Party, etc.
Does Lighting Control Save Money?
Once we have installed all smart switches and programmed them to your satisfaction, you'll immediately start saving money. Imagine never leaving a light on accidentally. The other day a client mentioned turning off the pool house from her phone because the kids normally leave the lights on all night long. She would rather turn it all off from her bed than venture outside late at night and now she can. How long does this technology last? Control4 switches can last 10 or more years so you don't need to worry about frequently upgrading your lighting infrastructure.
How Do I Get Started?
If you want to update your existing lighting infrastructure, follow our tried and trusted process:
1. First, make an appointment with one of our project managers and we'll begin the design process based on your needs.
2. We'll work with you to determine a budget based on your system size and will provide you with a plan designed just for you.
3. You'll also be provided a setup checklist so that you're ready with no surprises.
4. Schedule a specific date for our Hive team to visit your house and get the job done right the first time.
5. Choose the plan which best fits your needs so we can make sure your house is up and running 24/7 all year long. If you are under construction and want us to plan along with your Architect, we can schedule an appointment and coordinate with any specifiers so we're all on the same page from the beginning.
Interested in your own lighting control solution? Livewire has the expertise you need in order to get started. Contact Livewire today!