Outdoor audio/video systems enhance the ways you entertain guests in outside living spaces. The right combination of design, high-quality equipment, and weather will give your friends and family patio-envy. Especially in Central Virginia, where we're fortunate to have long, warm evenings the majority of the year. 
Technology has permeated nearly every aspect of our lives, the backyard barbecue included. At Livewire, we use high-quality equipment designed to withstand the elements and provide clear, sharp media in any condition.
Use Distributed A/V For Entertainment Anywhere
Distributed audio/video systems give you access to all your entertainment media from anywhere in your home. As you move from room to room, access your favorite TV shows, movies, music, and more without pause. It only makes sense that your audio/video system should extend outdoors!
You can also control these systems straight from your smartphone or tablet, making it even more convenient. No more fussing around with knobs or searching for the right remote. Wherever you get together with friends and family, you can access all of your entertainment media.
Take the Party Outside
Picture a warm, picturesque, Spring evening in Richmond. There's a big game on tonight, and you're having some friends over for burgers and brews. With no outdoor audio/video solutions, you essentially have two options:
Enjoy the weather while you cook, but pile into the living room to eat when the game comes on. 

Fall on the sword and man the grill by yourself while your friends enjoy the game. Maybe a few stick around to keep you company, but either way the gang's divided and you're missing precious moments. 
Now suppose you have a high-quality, high-definition entertainment system right in your backyard. That changes things, doesn't it? You get to enjoy a smoky barbecue (smoke makes all the difference), warm sun, and fresh air; all while cheering on your team with friends.
Play some relaxing, ambient music while eating outside, or crank up the tunes for a big backyard party. With distributed outdoor audio/video, you can make sure all your guests are having an enjoyable time.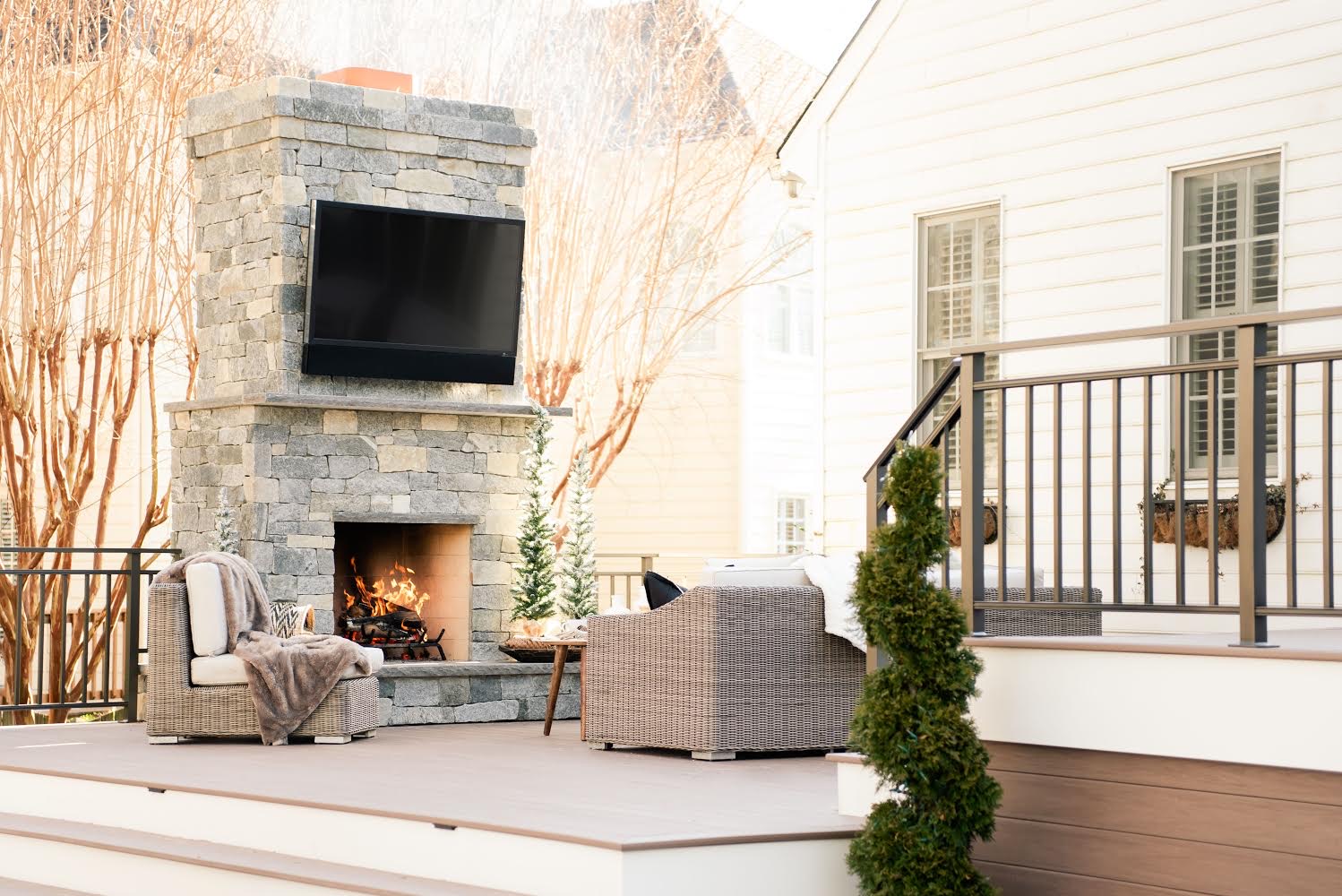 High-Quality Equipment You Can Count On
To truly enjoy your entertainment outdoors, you must first use equipment specifically engineered for it. Dust, rain, moisture, insects, and even sunlight can ruin standard televisions. Therefore, it's important to select the right equipment. 
Even if they were durable enough to handle weathering, traditional television screens aren't capable of outshining the sun. This leads to muddied picture quality, and traditional speaker systems don't fare much better.
What you need for outdoor audio/video is high-quality, durable, weatherproof equipment that will provide the best outside experience possible. At Livewire, we recommend brands like Séura and James Loudspeaker.
Outdoor Televisions: Séura TVs

Séura designs and manufactures some of the best outdoor televisions on the market. Their Storm and Storm Ultra Bright TVs are sleek, sturdy, and carefully designed to withstand the elements. They automatically adapt picture settings to show bright and clear in any lighting, so it won't fade to black when the sun is out.
Séura TVs are waterproof, weatherproof, corrosion-resistant, and triple-sealed to keep out rain, snow, dirt, and bugs. The best part? They feature ultra HD picture quality, making them an excellent addition to your outdoor entertainment system.
Outdoor Speakers: James Loudspeaker
James Loudspeaker engineers units to provide the best sound quality in any setting, with everything from powerful freestanding speakers to discreet in-wall units.  we custom-design systems to fit any landscape or patio.
Sturdily built from powder-coated aircraft-grade aluminum, they can provide rich audio in any condition. By using only the best A/V equipment as part of your outdoor entertainment system, you can be assured that you'll enjoy audio and video in any conditions and for years to come.
[mkb-tip]Livewire Tip: Protect your investment and use the right equipment for the right scenario. Equipment designed for outdoor use will be covered for that use under warranty; however, the same can't be said for regular screens and sound systems.[/mkb-tip]
Design and Installation
Proper design is critical when fully integrating your outdoor audio/video into your distributed home entertainment system. It's important to install and connect the system in a way that is both high quality and easy to use. 
Determining how your system will be implemented begins with a consultation with Livewire. Here are some factors that impact the design of your system: 
– The amount of shade provided by trees or patio roofing

– Your usual climate

– The layout of your landscaping or patio

– Positioning of existing light sources

– Acoustics of the outdoor space

– Connectivity and usage preferences

– Aesthetic appeal
Once we've assessed these and other factors, we'll design a system that meets your needs. Plus, our proven installation process and quality equipment will make sure you and your system are ready to rock. 
What Are You Waiting For?
Some of the areas we serve include:
| | | | | |
| --- | --- | --- | --- | --- |
| Richmond | Henrico | Short Pump | New Kent | Spotsylvania |
| Chesterfield | Ashland | Tuckahoe | Williamsburg | Thornburg |
| Midlothian | Glen Allen | Petersburg | Hopewell | Caroline |
| Powhatan | Atlee | Colonial Heights | Goochland | Fredericksburg |
| Mechanicsville | Hanover | Charles City | Charlottesville | Cumberland |
Livewire serves customers all throughout Central Virginia. If you don't see your city or town listed here, please contact us to find out if we can accommodate your needs.