Apple TV is one of the leading smart home devices on the market today. With seamless screen-sharing capabilities, access to all of the popular streaming apps, plus a library of original content – it's a popular choice as a home entertainment solution! But what happens when things don't work as they should? While there are several reasons that could cause your Apple TV to stop working, most are easily fixed. In this article, we'll cover some of the most common Apple TV issues and how to solve them.
Start With Restart
A restart can typically fix most Apple TV issues you may experience. There are three ways to restart your Apple TV device: by using the Siri Remote, through the AppleTV system settings, and by unplugging the device.
Using the Siri Remote
Press and hold the Menu and Home buttons on the Apple Siri Remote at the same time until the status light on the Apple TV device starts blinking.
From the System Settings
To restart from your Apple TV's system settings, navigate to Settings > System > Restart on your device.
Unplugging Your Apple TV
Disconnect the Apple TV device from the power source for 15 seconds, and then plug it back in. When the Apple TV device has restarted, it helps to confirm your software is up to date. To do so, navigate to Settings > System > Software Updates > Update Software.
Issue: Poor Wi-Fi Connection
If a restart doesn't do the trick, your next stop should be to check on your Wi-Fi connection. Apple TV issues here can include slow performance, sudden drops in connection, or problems joining a network.
To troubleshoot your wifi connection, select Settings > Network. On the Network screen, look for an IP address under Status. If no IP address appears, restart your modem, router, or access point as well as the Apple TV device.
If an IP address is listed, but the signal strength is weak, take the following steps:
– Double-check that it's your network the device is connecting to.
– Move your modem, router, or access point closer to your Apple TV.
– Connect to your network via an Ethernet cable instead of a wireless connection.
– Invest in a Wi-Fi extender to increase the signal strength near your device.
Issue: AirPlay Doesn't Work
AirPlay lets you share movies, music, and photos straight from your mobile device to your television screen. Workplaces often have conference rooms with AriPlay compatibility so employees can share presentations and training programs. If AirPlay isn't working with your Apple TV device, you can take two actions:
– Ensure that the mobile device or Mac is on the same network as your Apple TV.
– Make sure AirPlay is enabled on your Apple TV device. On the home screen, select Settings > AirPlay and make sure the toggle is set to ON.
Occasionally, some household devices can interfere with AirPlay. Cordless phones, microwave ovens, and others can emit a signal that disrupts the AirPlay connection. Make sure both your device and any wireless access points are away from anything that generates interference.
Issue: No Sound or Picture
To fix an audio or video problem, complete the following steps:
1. Make sure that the volume on your external audio device or television is not set to mute.
2. Restart the Apple TV device.
3. Unplug, and then firmly reconnect each end of the HDMI cable on your television and device.
4. Select Settings > Video and Audio > Resolution and confirm settings fit your television.  [mkb-tip]Livewire Tip: Apple TV sets the resolution automatically. If the chosen resolution isn't appropriate for your television make and model, check the guide you received with your television for the best screen resolution.[/mkb-tip]
5. Select Settings > Video and Audio > Audio Output and make sure HDMI is selected.
Issue: The Siri Remote Doesn't Work
In most cases, the reason your remote stops working is that its battery needs to be recharged. If your remote is still working, you can check the battery power by navigating to Settings > Remotes and Devices > Remote. Next to the remote graphic, the screen will display the remaining battery life on your device. If your remote isn't working, use a lightning cable to recharge your remote.
Issue: The Status Light Is Flashing
There's a little white status light on the front of your Apple TV device, and if it's flashing quickly you may have a hardware problem. If the flashing continues for more than three minutes, you might need to restore your device to the factory default settings. You can accomplish this with the following steps:
1. Select Settings > System > Reset.
2. On the Reset screen, select one of the two options:
– Reset: This option returns the Apple TV to factory settings.
– Reset and Update: This option returns the Apple TV to factory settings and then installs software updates (Internet connection required).
Make sure your Apple TV device remains connected to a power source until the reset is finished. If the reset doesn't solve the problem, disconnect the power cable from the back of the Apple TV device. After 30 seconds, plug the Apple TV device into a different power outlet. If possible, try a different Apple TV power cable.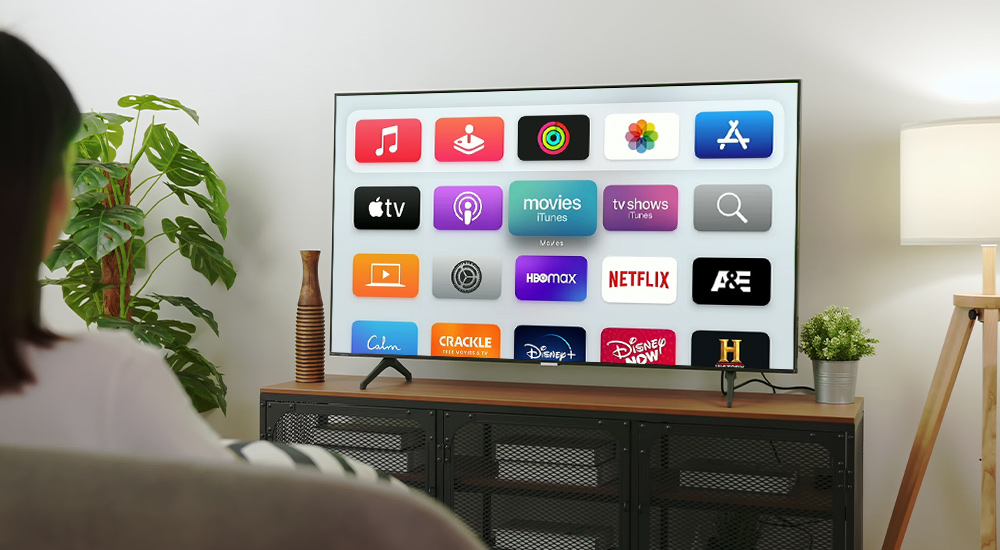 Issue: My Device is Out of Storage Space
Although most of the content enjoyed on your Apple TV is streamed from the Internet, the application data can take up storage quickly. If you see an error message that your Apple TV is out of space, you can free some up with the following steps:
1. Navigate to Settings > General > Manage Storage.
2. You'll see a list of all apps installed on your device, and how much space each takes up.
3. Highlight the trash icon next to the ones you don't use, and select Delete.
If you delete an app by accident, you can always re-download them from the App Store once your device has some storage space freed up!
Livewire is Here to Help!
Some of the areas we serve include:
| | | | | |
| --- | --- | --- | --- | --- |
| Richmond | Henrico | Short Pump | New Kent | Spotsylvania |
| Chesterfield | Ashland | Tuckahoe | Williamsburg | Thornburg |
| Midlothian | Glen Allen | Petersburg | Hopewell | Caroline |
| Powhatan | Atlee | Colonial Heights | Goochland | Fredericksburg |
| Mechanicsville | Hanover | Charles City | Charlottesville | Cumberland |
Livewire serves customers all throughout Central Virginia. If you don't see your city or town listed here, please contact us to find out if we can accommodate your needs.