Transforming your home with a stunning, custom outdoor lighting system is a fantastic feeling. The visual results can be dramatic, and your ability to enjoy your property at night will sky-rocket. But installation is only half the battle! Your system requires regular care to keep it looking as great as it did on day one. To help keep your system running smooth – we've put together this handy checklist for outdoor lighting maintenance.
☑ Check All Your Fixtures
An errant lawnmower, a fallen branch, an intense thunderstorm. Stuff happens! Although outdoor lighting fixtures are designed to withstand the elements, accidents do occur. Corrosion, damage, breakage, and dents can all compromise your outdoor fixtures, so check them periodically. Compromised fixtures are a potential hazard for local wildlife or even friends and family.
Our fixtures are made entirely of brass, so they can take most of the daily hits that come with owning a home. However, the intended lighting effect can get lost if they get tilted or tipped. Readjusting is a big part of maintenance. It's also important to check all of your connections. Connectors can come loose over time, and landscape work or foot traffic can sometimes leave wires exposed.
[mkb-tip]Livewire Tip: Our lighting equipment partner Coastal Source offers a lifetime warranty on systems installed and maintained by a certified dealer or installer. So if you notice any damaged or broken fixtures, just give us a call![/mkb-tip]
☑ Clean Those Lenses
Make sure your lights are always burning bright! Periodically check to make sure the lenses on your fixtures are clean and free of any obstructions. Snow and rain are rich in minerals, so hard water deposits can build up over time. Lenses can also become coated by dirt, mulch, debris, or spiderwebs, which block the light emitting from the lamp. Use a non-abrasive cloth and a CLR type cleaner to keep them shining clear.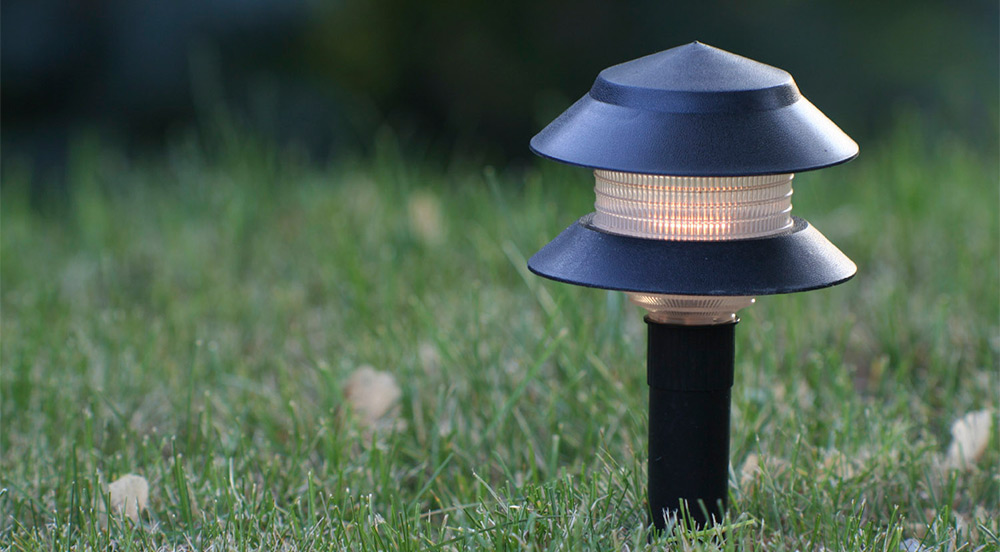 ☑ Clear Any Landscaping
Your landscape grows and changes all the time, which might affect the original lighting design for your system. Trim or cut back any vegetation that might be growing over your fixtures. It's also important to make sure the lighting path is clear too! Overgrowth may block the lighting from reaching the area intended to be lit up. Even a small amount of blockage can greatly decrease the amount of light is emitted.
☑ Replace Any Burnt Bulbs
Walk the property and check for any bulbs that look burnt out. Thanks to the lengthy lifecycle of an LED light, bulb replacement isn't a common need anymore. If your fixtures use halogen bulbs, you may need to replace them every year or so. For some more info on different types of light bulbs, check out this handy article.
If you notice some bulbs losing their brightness, even after replacement, give us a call. It could mean an issue with the voltage delivery or another unseen line issue.
☑ Confirm Any Timers
Sunrise and sunset times change drastically throughout the year, especially in Central Virginia. You can reduce unnecessary wear and tear on your exterior lights by making sure your lights aren't on when they're needed. Fortunately – several automated lighting systems can now be controlled straight from your smartphone! However, analog timers need to be adjusted to reflect the change of seasons.
Your landscape lighting is a lot like your car. If you don't keep up with its basic needs, you're setting yourself up for bigger, more expensive problems down the road. Protect your investment with outdoor lighting maintenance checks at least once a year.
Don't want to do it yourself? Contact Livewire for all of your outdoor lighting needs! We'll be happy to answer all of your questions talk about how we can work together to make your dream landscape truly shine.
Learn how to bring it all together and create the perfect high-end outdoor lighting system by contacting Livewire at 804-793-8919 or visit our Lighting Control page for further reading.