Outdoor Lighting Solutions
Make your home the envy of all your neighbors with outdoor lighting solutions by Livewire. Highlight landscape features, illuminate pathways, provide added security, or brighten your patio for relaxing evenings outdoors – we will light up your home with accent outdoor lights that give it a dramatic appearance.
We use lighting strategies that make it easy to build upon areas all around your home, and we'll work together to make sure your system is cohesive and easy to use. With a complete outdoor lighting system, you can keep the party going long after dusk, boost outdoor ambiance, and protect your property from unseen threats.  As Central Virginia's premier home technology provider, we know how to make your home stand out from the rest.
Let us shine a light on the best illumination options for your outdoor space!
What Are The Benefits?
Take full control of how your home looks after dark, whether you're home or away. Outdoor Lighting Solutions offer so many great benefits, some of which include:
Safety and Security
Automated lighting control can prevent crime and losses in damaged or stolen property, and security lighting will discourage would-be intruders from targeting your home.  It can make the interior of your home safer as well! The illumination outdoor lighting provides can help make your home easier to navigate late at night, which helps prevent potential accidents.
But you don't need to flood your home with light to feel safe. In fact, over-illumination can even draw unwanted attention to your home, and can sometimes cause light pollution or disturb your neighbors. Our team of experts will make sure you have the right balance of security and aesthetic beauty.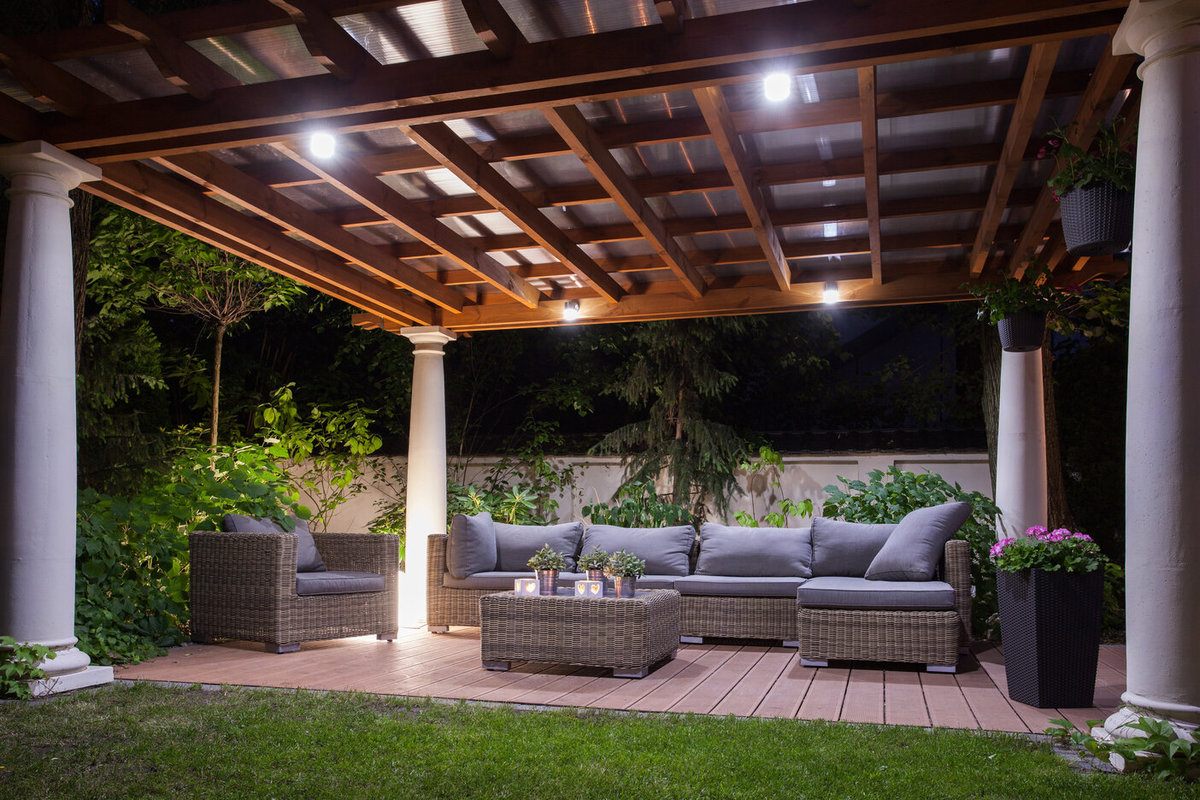 Curb Appeal
Landscape lighting adds beauty and dimension to your home, and the way it can highlight certain architectural details or design features can have a dramatic effect. With the right setup and the right fixtures, we can make your home's best features shine bigger and brighter! Not to mention the impact a quality outdoor lighting system can have on your property value.
Outdoor Entertainment
Just because the sun goes down doesn't mean the party has to stop! Make your patio the ultimate relaxation station with some ambient uplighting. Install spotlight dimmers so you can set the mood right for a movie night on your back porch. Our custom lighting scenes will keep guests entertained and happy late into the evening. Just try to keep it down for the neighbors!
Different Types of Outdoor Lighting
At Livewire, we specialize in low-voltage lighting systems with quality, energy-efficient materials that ensure your home benefits that last. Some of the different types of lighting we provide are:
Floodlights and Spotlights – Typically used to highlight visual interests in the yard. Spotlights are more concentrated and used to draw attention to specific details. Floodlights have a much wider beam spread, and are better suited to highlight general areas like a driveway or backyard, providing higher visibility and safety.
Well or Inground Lighting – Well lights, or inground lights, are circular fixtures installed directly into the ground. They are best used to light up a strong presence in your yard like trees, garden walls, or the sides of your home. If blended with spotlights, they can really create a dramatic atmosphere.
Hardscape Lighting – Used to help navigate dark stairs and accent architectural details, these lights are installed directly into a yard's hardscape or decking. They're great for use in spaces where you'd be entertaining guests and can also be used for washing light down stone walls and other features.

Livewire As Your Outdoor Lighting Provider
Our experienced team of lighting experts will work with you to create a plan unique to your home and space, because with Livewire – you're getting a true outdoor lighting solutions partner. The outdoor space of your dreams could be just a few clicks away, so contact us today!
Some of the areas we serve include:
Richmond
Henrico
Short Pump
New Kent
Spotsylvania
Chesterfield
Ashland
Tuckahoe
Williamsburg
Thornburg
Midlothian
Glen Allen
Petersburg
Hopewell
Caroline
Powhatan
Atlee
Colonial Heights
Goochland
Fredericksburg
Mechanicsville
Hanover
Charles City
Charlottesville
Cumberland
Livewire serves customers all throughout Central Virginia. If you don't see your city or town listed here, please contact us to find out if we can accommodate your needs.
For Further Reading: